Cedar Wood: The Optimal Lumber Choice for a Catio
Why is cedar an optimal lumber choice for a Catio?
Cedar is an ideal choice of lumber for outdoor cat-enclosures, as it is an aromatic wood that is not only versatile, but also durable and sustainable. Aesthetically, the wood can be various colors, and has a natural finish that will look beautiful for years. The heartwood, or the center of wood, can vary in color from light straw, to pinkish red, to a deep, rich brown. Highly weather-resistant and non-porous this wood can be resistant for many years to rot, and different weather.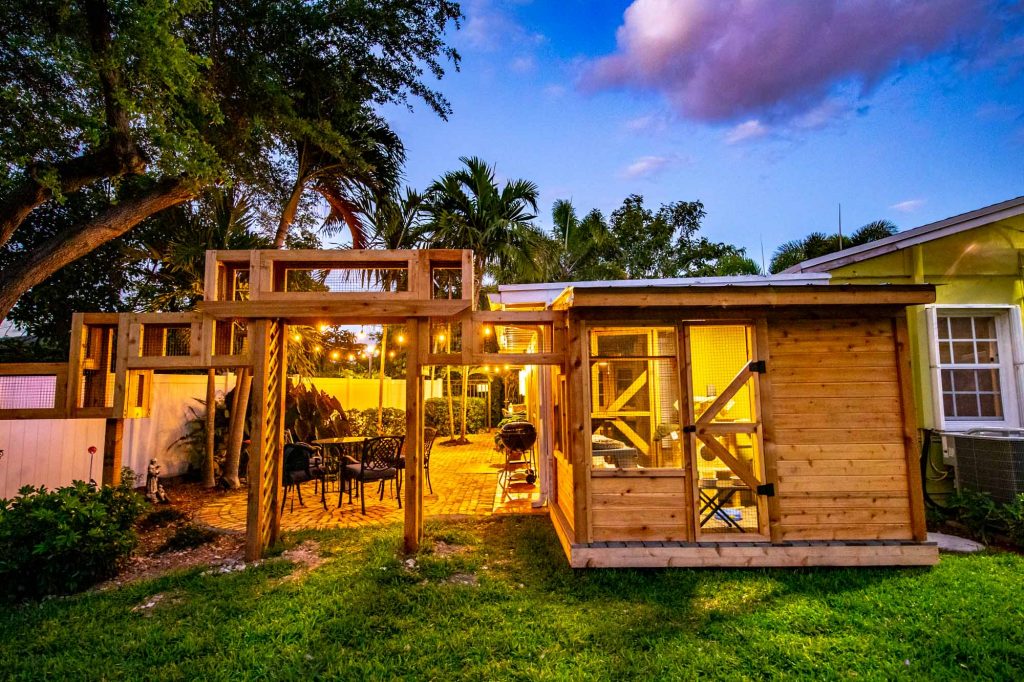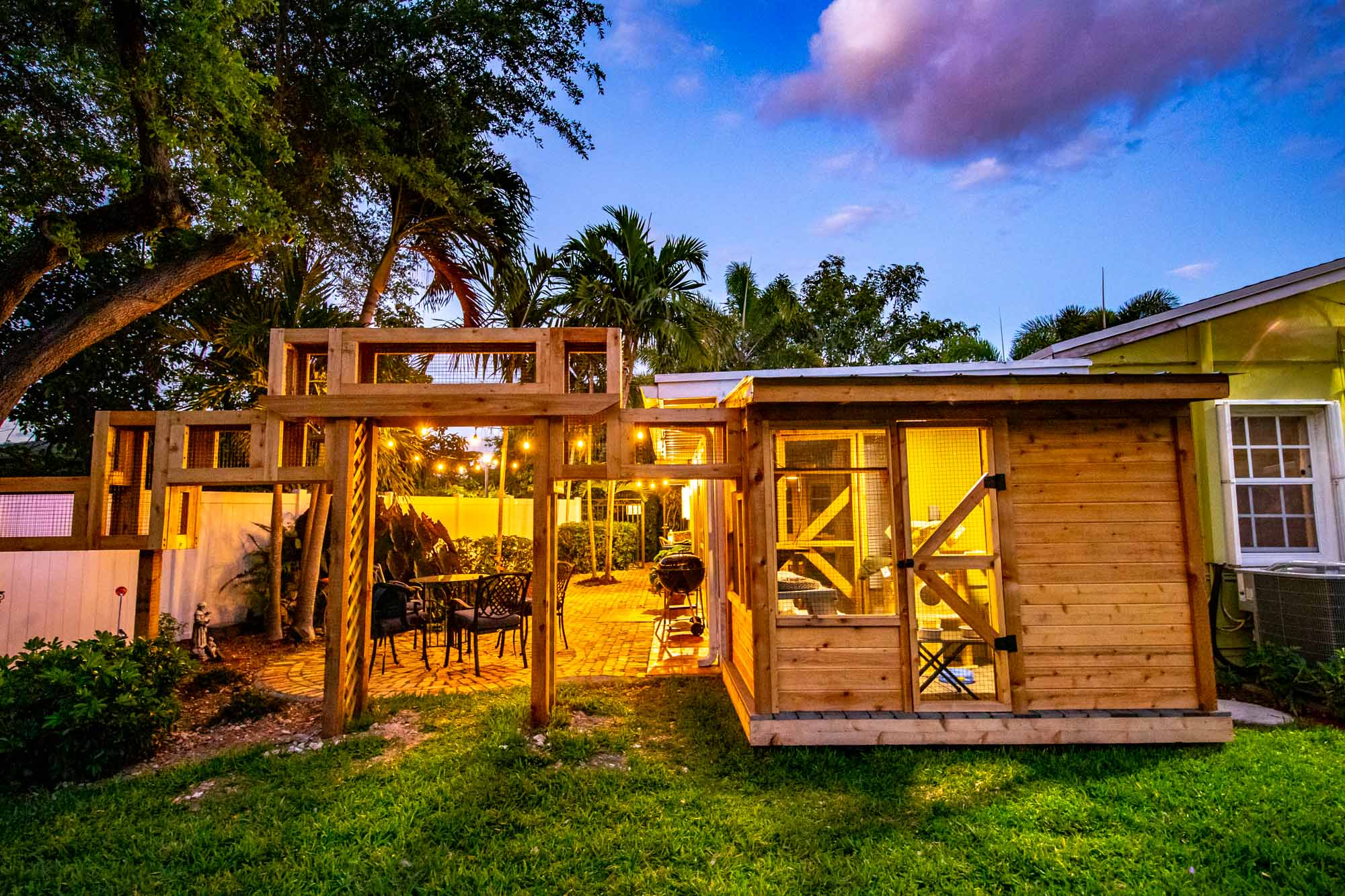 Cedar wood is a lumber that is naturally durable. In other woods, this wood type can resist rot, decay, and moisture without being treated by chemicals. In an article published by the University of Tennessee, professors of Forestry, Wildlife, and Fisheries explain that the reason for this is that the tree releases natural chemicals deep into the heartwood. This process makes the tree less susceptible to different kinds of rot. Compared to pressure-treated wood, this wood type is not treated, and thus is an organic alternative.
That being said, the most durable part of the cedar wood is the heartwood which is found at the center of the tree opposed to the sapwood which is the outer edge of the tree.
A lumber that is easy to cut, and shape—cedar is workable. Its odor is distinct and agreeable, so when cutting and shaping it, the backyard will smell great!
Protects Cats from Unwanted Insects
This wood will protect your cats from things like: fleas, ticks, spider bites and other insects that can cause harm when exposed to the outdoors! The wood releases hydrocarbons (phenols) and acids that act as natural pesticides to deter bugs.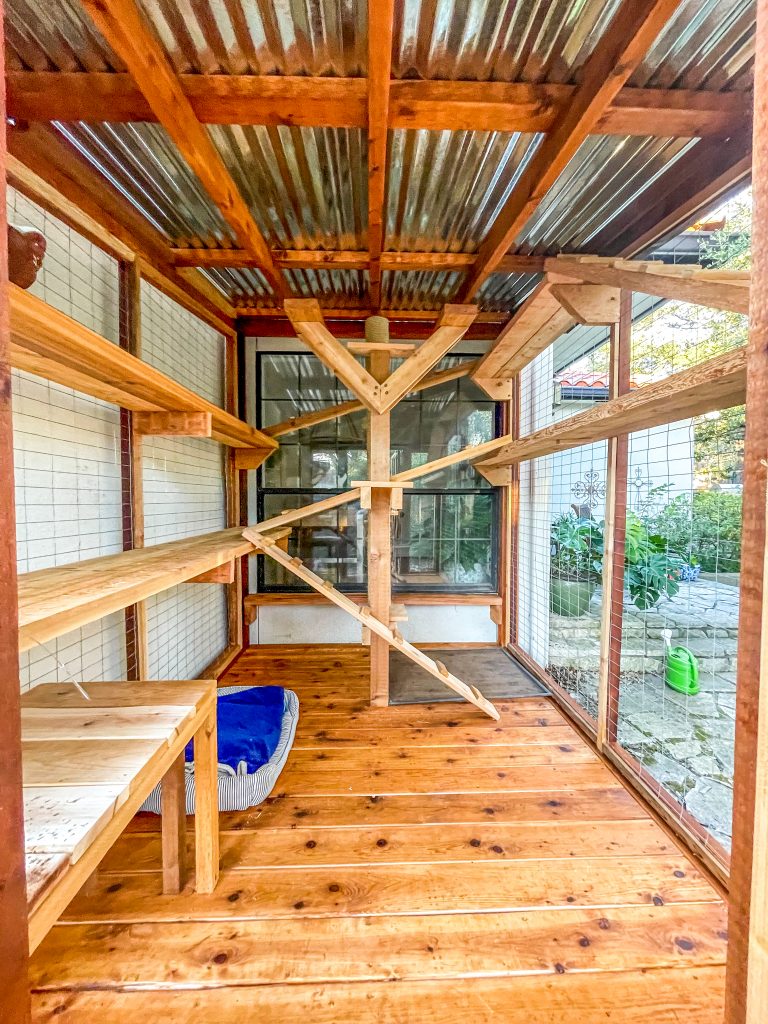 Wood is already a renewable resource and stands up against other materials such as steel and concrete. Types of cedar such as Western red cedar are a sustainable choice of lumber for several reasons.  
The ATHENA Sustainable Materials Institute has evaluated the environmental impacts of wood as a building material compared to others such as steel, and concrete. The research takes into consideration the impact of building materials on water, air, and soil.  
An Environmental Product Declaration (EPD) is a transparent, objective report that communicates what a product is made of and how it impacts the environment across its entire life cycle. Western red cedar has an EPD that is accessible here.  According to this report, Western red cedar products come from forests that are sustainable
Cedar reduces your carbon footprint for the following reasons:  
Biodegradable: 

compared to man-made materials or even pressure-treated lumber, cedar is biodegradable because it breaks down easily

.  

 

Renewable resource:

 

For every Western Red Cedar that's harvested, at least 3 are planted. 

 

Sustainable: 

using wood from sustainably managed forests improves the environment and reduces our carbon impact. 

Reduces greenhouse gases:

 As we have seen in the table, wood and western cedar have a much lower environmental impact compared to other building materials. 

 
Cedar is also highly versatile because of the different species. In the USA, there are mainly 5 different types of cedar that are commercially available to purchase.  
Scientific name: Thuja plicata 
Color: Heartwood is consistent reddish, brown tone. Most sapwood is milled out of wood in process.   
Qualities: low density, light weight  
Distribution: Alaska through Northern California in the Rocky Mountains 
Scientific name: Thuja occidentalis 
Color: Heartwood is light brown and sapwood is creamy white with knots present.  
Qualities: less dense than Western red cedar; sometimes brittle  
Distribution: Southeast Canada, Northeast USA (Tennessee to Iowa); can be difficult to find outside of range
Eastern red (aromatic) cedar, "aromatic cedar"
Scientific name: Juniperus virginiana, in the Cypress family 
Color: Heartwood is pinkish red. Sapwood is almost white with knots present.   
Qualities: Dense and lightweight; important to wear respiratory protection when cutting; best finished with a lacquer or polyurethane  
Distribution: Eastern USA  
Scientific name: Chamaecyparis nootkatensis 
Color: Heartwood can be creamy white to a light yellow. Occasional dark streaks.  
Qualities: Dense and lightweight  
Distribution: Pacific Northwest
Scientific name: Cedrela odorata 
Color: Heartwood is light pink or reddish and darkens over time. 
Qualities: Low density and softness  
Location: Native to South America but is grown on plantations in Florida.  
Cedar Catios are Beautiful!
Cedar's greatest benefits is its ability to age well. Western red cedar grays overtime creating a patina that looks weathered and lovely. It will look and smell amazing used in a Catio in your garden.  
Check out this video from a recent Catio build we made with cedar wood:
Are there disadvantages to cedar catios?
Yes, as with any lumber there are a few drawbacks. The first is that cedar is very flammable. This is something to consider if you live in drier climates. Never use an open flame close to cedar.   
The maintenance that cedar will require can also be considered to be a drawback. However, general upkeep is normal with any lumber used outdoors. To keep cedar looking beautiful, cleaning is required. We recommend keeping dirt, mildew, water and moisture to a minimal on any outdoor cedar material. Any of these can result in discoloration and staining!  
Upkeep of a Cedar Catio
Handwash the catio periodically with a mild detergent. Never pressure wash, as this could damage the wood.
For more stubborn stains or mildew, apply a mild bleach and water solution. Always allow this to follow dry.
Cedar naturally grays. If you like this look, you can let the cedar age gracefully. However, if you want to upkeep the original color, we'd recommend that you seal the cedar. A wood sealer can also protect from water, and dirt which eventually can stain the cedar.
You can also stain the cedar every couple of years if you wish. Staining is an alternative to paints which will not blister or peel. Staining renders a timeless and beautiful finish.
Never use finishing oils.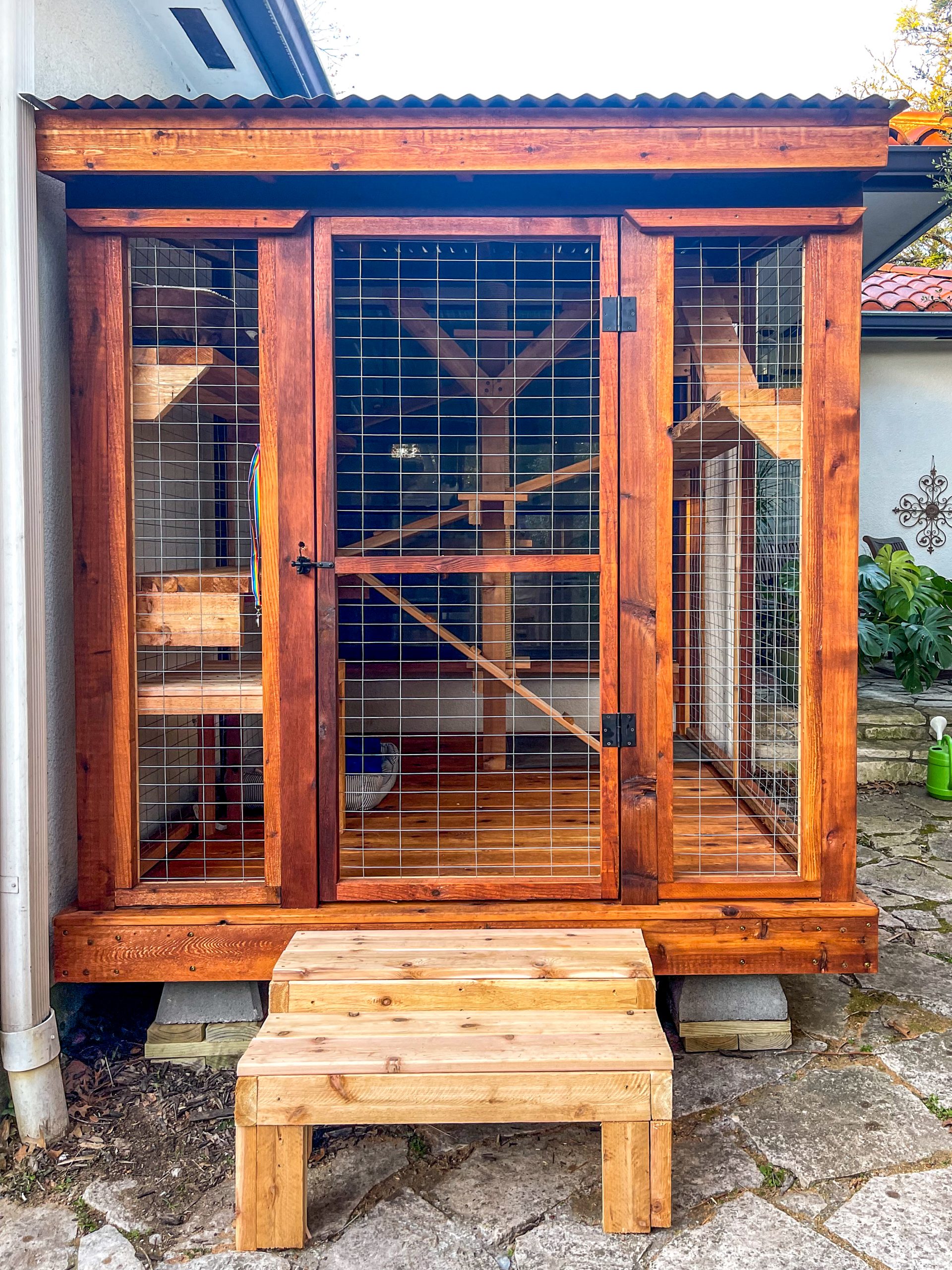 Final Thoughts
Cedar is a great lumber choice for a Catio because it is an elegant looking wood innate with properties helping it resist rot, and insects, and pests. If you're someone who enjoys the natural beauty of wood, while also caring about the ecological impact of the lumber being used, cedar is a great choice for you. Not only will it give up off a lovely odor while being built, but it will look great for years to come no matter if you stain or leave it natural. No need to worry about splinters, the upkeep of paint, or pressure washing, if you regularly maintain the Catio with some simple steps, cedar will maintain its refined beauty for years to come.