New Mexico's Top Catio Service
There is a reason why Cat Topia offers catio builders across New Mexico. The reason:
Domesticated cats in New Mexico are at risk when exposed to the outdoors. The climate is very hot, making it hard for outdoor cats to survive if lost, and wild animals lurk not only in the open landscape but also in urban areas. 
New Mexico is a place we are proud to belong in because we are able to give cats a life they want through outdoor cat enclosures.
---
With Cat Topia you will get:
Design/Blueprints
Experienced Catio Builders
A cat enclosure build able to withstand prey
Multiple cat perches to gain the best views.
List of wild animals in New Mexico that threaten cats 
Coyote
Fox
Racoon
Rattlesnake
Bobcat
Eagle
Owls
Hawks
Dogs
Minimal price for our New Mexico catio services is $6,000
Cat Topia has a wide range of catio add ons. If you decide to upgrade your catio, additional costs will be included. 
Add additional cat shelfs
Lumber upgrades offered
Painting/Sealing

Choose a paint or stain color

Roofing Upgrades

metal roofing
open roofing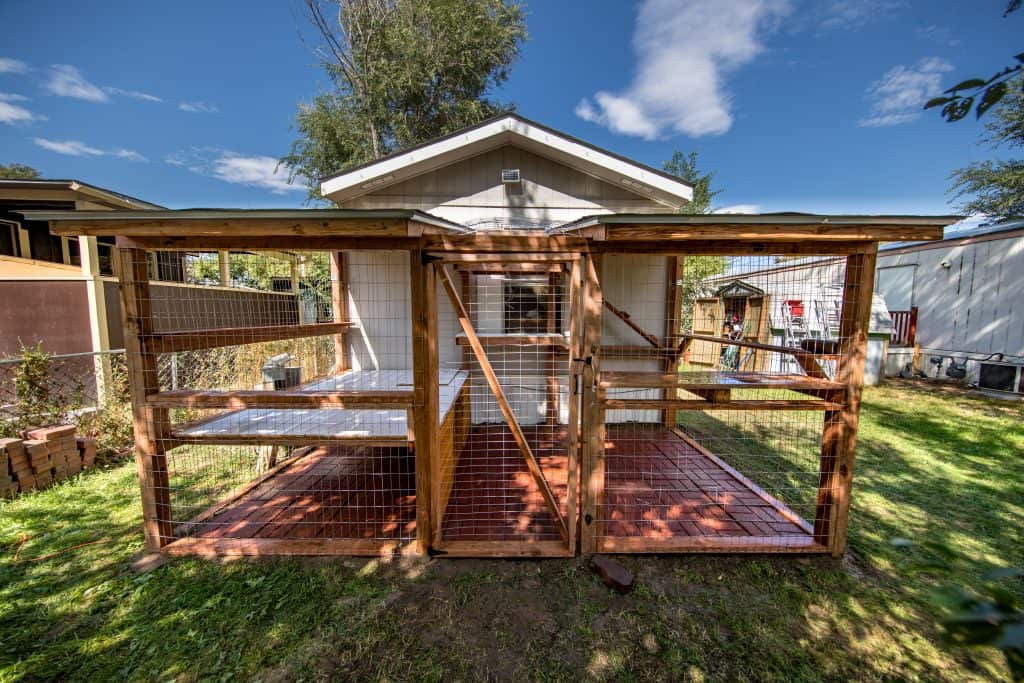 Since 1939, the Santa Fe Animal Shelter (SFAS), a 501(c)(3) nonprofit, supported mostly through public donations, has been dedicated to its mission: support animals, save lives, spread compassion.  We are northern New Mexico's largest open-admission, no-kill shelter.  SFAS focuses on accessible spay and neuter programs, creative adoption efforts, and over a dozen community programs and initiatives.  Located on a 100-acre campus complete with walking trails and play yards for daily enrichment for our shelter residents, SFAS also provides to the public; single and multi-use dog parks, training classes, and the Thaw Animal Hospital, a full-service veterinary clinic that offers affordable, high-quality veterinary services.  The Santa Fe Animal Shelter was built by this community, for the community  – a place to find joy with the animals. Today, tomorrow and always. 
Cat Topia is proud to be a partner with Santa Fe Animal Shelter and for every catio built within New Mexica, we will donate 1% of the sale. For any catio sale that comes through Santa Fe Animal Shelter, we will give back 5% of the catio sale!