CDC Advisory For People With Pets
As COVID-19 continues to spread and disrupt our daily lives, we need to use caution and limit interaction to reduce the spread of the disease. The CDC is cautioning pet owners to use caution in the coming months while interacting with your beloved animals. Covid-19 has been reported to be infecting a small number of pets worldwide including cats and dogs. Transmission occurs when animals come in close contact with a person infected with COVID-19. Cats will be especially at risk as many demand access to the outdoors. Unlike dogs it is quite difficult to confine a cat to the safety the backyard once they are outside. Therefore, cats are more likely to come into contact with a person with COVID-19.
How To Keep Your Outdoor Cat Safe
The CDC is advising pet owners to limit the interaction with people outside of the household. Treat your pets like you would a member of the family and use caution not to expose them to COVID-19. This means for outdoor cats, keep them indoors when possible, and do not let them roam freely outside. If a person in the household becomes sick, isolate said person until symptoms have subsided, including pets. This could be done by designating a room of the house for the animals, having another member of the household take care of them, or having a friend or relative watch them. If you are have tested positive for COVID-19 and your only option for caring for your pet is on your own, make sure to wash hands thoroughly before touching them, handling their food, or changing their water.
The best way to ensure your outdoor cat still have access to the outdoors without coming in contact with COVID-19 is to have a catio. A cat enclosure will give them an area outside, without the risk of coming in contact with an infected person. A catio will provide your cat with safe access to the outside world while limiting their ability to jump the fence and roam the neighborhood. We are still learning about the effect that COVID-19 has on animals but we know that transmission is possible.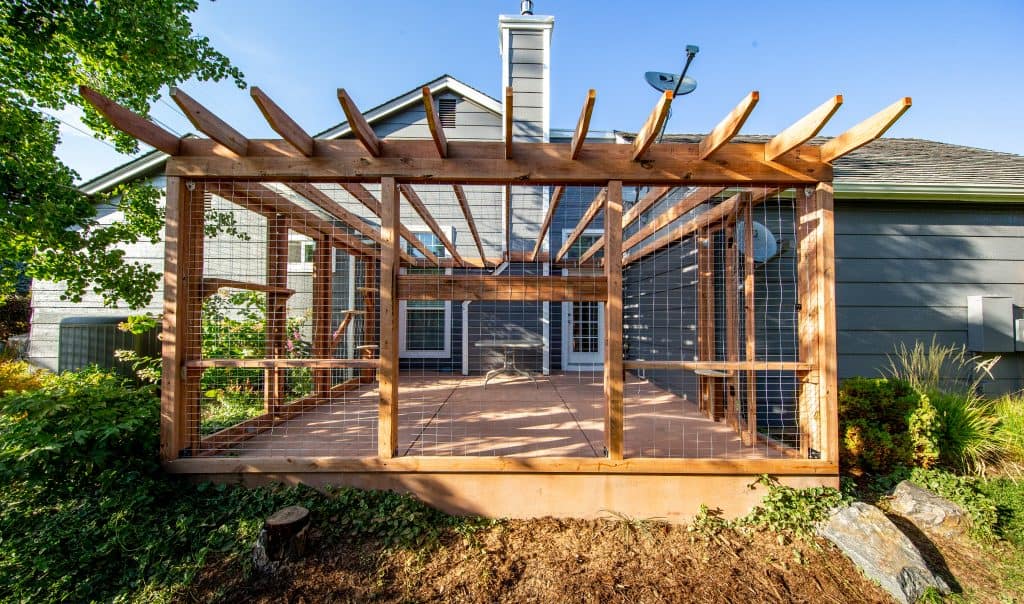 If your pet does get sick, isolate them from everyone including other pets, and contact your veterinarian. There is no evidence that pets are contagious to human once infected with COVID-19. Wait to reintegrate your pets back into the house until your vet or public official has determined it is safe to do so.